My Favorite Fitness Products
I get a lot of questions about my favorite fitness products. People seem to be especially interested in my preference of leggings and fitness trackers. I've tried a lot of fitness products over the last few years, from apparel to equipment to accessories. I thought I would put together a list of some of my favorites to share.
(I'm not being paid/sponsored/affiliated for any of these – I've just tried 'em and loved 'em!)
Apparel
While I like my workout clothes to look as cute as the next girl's, I also like them to function the way I need them to. In my case, that means they need to be able to go from the powerlifting gym to the barre studio and on to run errands or meet a friend for brunch. My friends get a lot of 'Sarah in workout clothes… Bless 'em.
I've tried so many brands and styles and I'm always trying new brands, but I've found a few staples that are always in my workout wardrobe.
Zella High Waisted Leggings
"What are your favorite leggings?" That's the question I get the most. I think I've tried every single pair of leggings under sun by now. I've finally settled on a few brands/styles that I love, but I think leggings are ultimately about personal preference.
That said, I've recently discovered the Zella's high-waisted leggings from Nordstrom and they quickly became my favorite pair. At  $54, they are also reasonably priced. If I know I'm doing burpees in The Gym, I put on these – the fabric stays put, no pulling them up in between burpees or box jumps!  – and they are really flattering. I bought them in a beautiful hunter green color and I'm eyeing a black pair – because I really need another pair of black leggings… 
Other Favorite Leggings
Besides my Zella leggings, I also really love the Athleta Chaturanga leggings, as well as Carrie Underwood's Calia By Carrie line. For leggings with fun prints, the girls at Superfun Yoga Pants never let me down. I will say that these leggings are more suited for low impact workouts, like barre and yoga.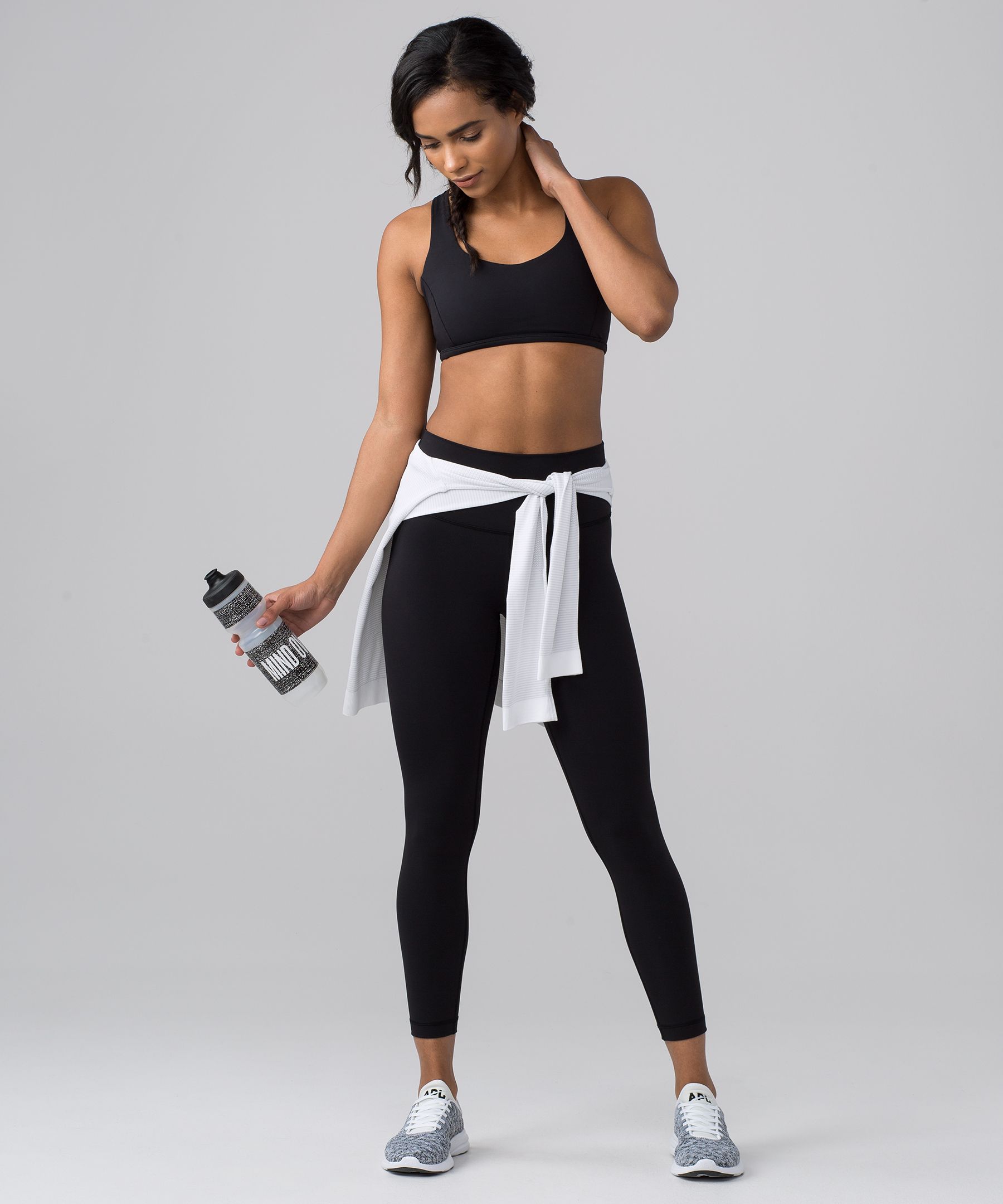 Lululemon's Free To Be Sports Bras
I have all sorts of requirements for a sports bra, some functional, some pure vanity. I don't have an especially large chest, but I do like full coverage and support. There are sports bras out there that I just can't imagine being appropriate for a HIIT workout or a visit to your local Crossfit box. I also like them to have a bit of padding – but not too much – and fun straps (vain – I told you). My favorite sports bra is the Free To Be from Lululemon. Its support supportive, and super stylish.
Calia By Carrie Outerwear
Because I often leave the gym or studio to run errands, go to meetings or meet friends, I like to layer to pull off the athleisure look. Carrie Underwood's Calia By Carrie line has some of my favorite outer pieces. I especially love her essential fitness jacket and the effortless fleece. They take my leggings and takes from studio to brunch with at least some dignity.
#gymhairdontcare 
Fitness Trackers
As an instructor, I rely on my watch to stay on time, and in SPORT class, to time tabata. I also like to track my heart rate and calories burned during my own workouts. I briefly tried an Apple Watch, but I returned it two days later for my tried and true favorites. 
Polar FT7 
I've had three Polar watches now – two FT4s and now a Polar FT7, and each of them have served me well, quitting on me after a year or so of more or less everyday use. I think the batteries just needed replacing, but I replaced the whole watch each time. This model does require wearing a heart monitor around the chest, but I've never had an issue with it. In fact, I often use it as a guide as to where my bench press should come down on my chest!
I'm going to be in the market for a new one soon, and I think I'll upgrade to a new model, maybe even try a Garmin, but if you like tracking your heart rate and calories burned – accurately – during a workout, Polars are great.
FitBit Alta
I don't wear my FitBit Alta day-to-day anymore, but I love busting that thing out when we have a fitness challenge at work or I travel. I love that the Alta is slim. Outside of the gym/studio, I'm not a regular watch wearer, so the thin band is perfect on my slender wrist. I like that I can sync it with my phone to get text messages and phone calls, too! If you want something to track day-to-day activity like steps taken and calories burned (ball park – not as accurate without a heart rate monitor), this is a great option.
Fitness Apps
For health and fitness, there are a few apps that I really like, both for nutrition and for working out. 
MyFitnessPal
Nutrition is at least 80% of the fitness game. Abs are made in the kitchen as the saying goes. I'm constantly working to fine tune my nutrition and MyFitnessPal is great for tracking calories and workouts. The paid version also tracks macros. It's helpful to visually see calories in and calories out and how my macros break down to see where I need to make changes.
Interval Timer
I don't love cardio. I've tried really hard to be a runner and it's just never going to be my workout of choice. Cardio is just as important as resistance training, however, so I do it, and when I do, it's usually a HIIT workout. I use the Interval Timer app to time my rounds and rest periods. I like this app because you can customize both time and the number of rounds, and it allows you to continue listening to Spotify, Pandora, etc. Other apps I tried either had their own "playlists" (they were so so bad) or hooked into only iTunes or other digital service.
Beware though – the buzzer at the end of a round can catch you off guard if you're planking away and jamming out to The Chainsmokers!
Sworkit
My former roommate introduced me to Sworkit. Before I felt comfortable building my own workouts, I used Sworkit to guide me. You simply tell the app what type of workout you want to do and how long you want it to be, and it provides you with a workout to follow, along with videos of each move. This is a great app for someone new to working out or doesn't feel as comfortable coming up with their own programming.
Equipment
I don't have a ton of workout equipment in my apartment – no need when you spend as much time at the gym and barre studio as I do! – but I do have a few pieces I'd recommend to anyone.
Lacrosse Ball and Foam Roller
You know those achy muscles after a good workout? The ones that make simple acts like sitting down or climbing the stairs not so fun? A few minutes with a lacrosse ball or a foam roller will help relieve them, not to mention improve your own mobility. While I don't have any recommendations on a specific brand for either product, they are both easy to come by. You can usually find foam rollers at places like TJ Maxx for under $15, or order from Amazon. 
I use my lacrosse ball for the bottom of my feet and especially my calves. The foam roller is used almost nightly on my quads and hamstrings, and often on my back. Airrosti has some great tips for lacrosse ball myofascial release and foam rolling techniques.
A pro tip – opt for a smooth foam roller, rather than one with "teeth." While the ones with teeth may feel like they're getting in deep, they're actually missing pockets of tissue.
Yoga Mat
I'll admit it – I don't use my yoga mat very often. If you're working out at home, or want your own mat for the gym or studio, I recommend either the Lululemon reversible mat or the Empower Deluxe mat from Target. The Lululemon one is a bit pricier, but the quality is hard to beat. The Empower is thicker, however, which I prefer, and is more wallet-friendly.
Resistance Bands
I have the Fit Simplify Loop Bands and they go everywhere with me. I keep them in their pouch in my gym bag and find them beneficial not only for working out while traveling, but to stretch or do a bit of restorative work. It's not uncommon to walk by my desk at work and see me with one of these bands looped around my wrists.
Workout Accessories
Oh the accessories. You could drop a small mint, buying workout accessories like water bottles headbands, and gym bags.  There are just so many options.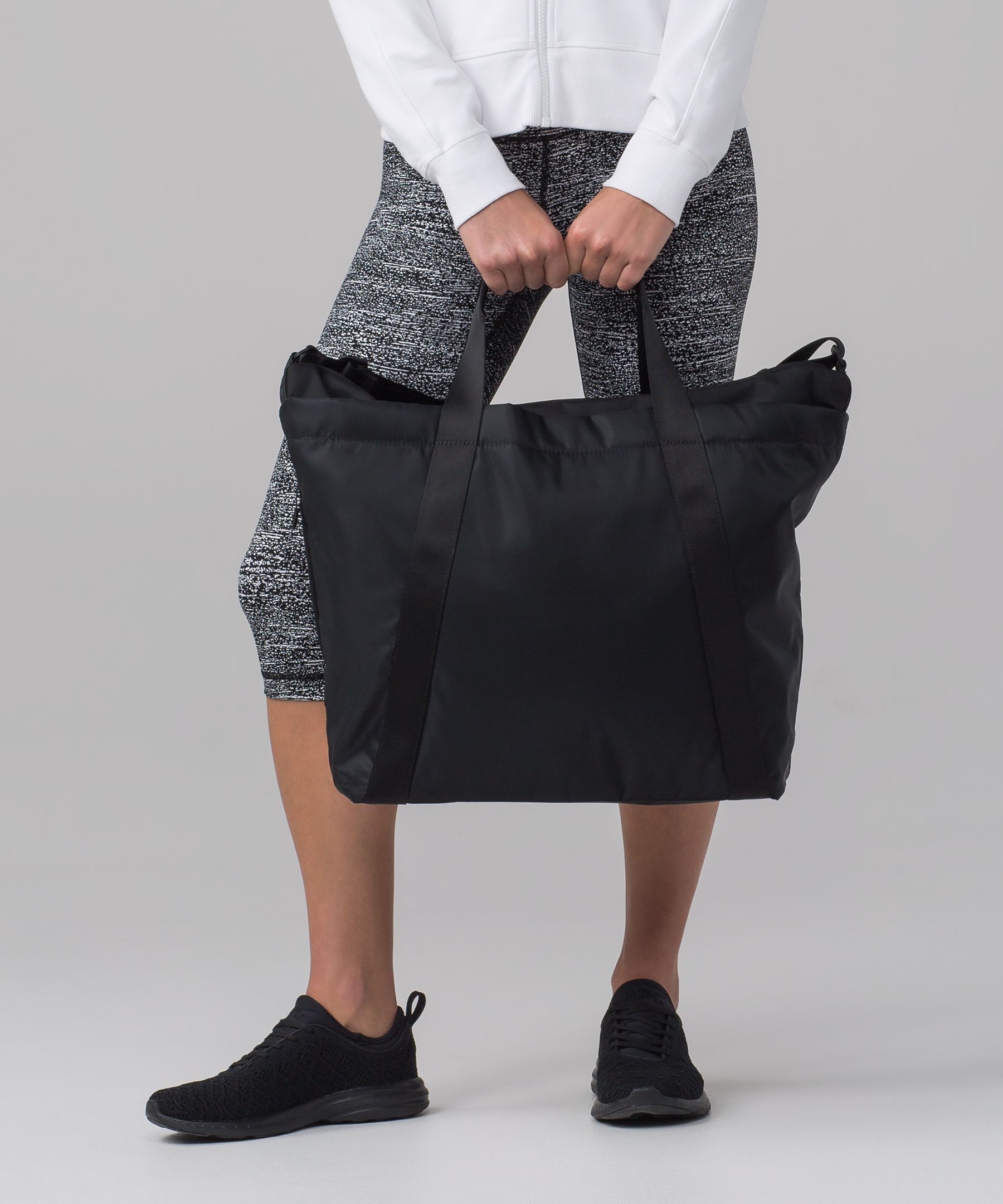 Gym Bag
My biggest fitness splurge to date has been my Lululemon gym bag (mine is no longer available online, but they have some great options, like the one above!). I had a little bit of buyer's remorse at firs – I couldn't believe I spent that much money on a gym bag WITH my Lulu R&D discount – but two days later, I was sold. I was carrying my purse, a tote with gym clothes, and a lunch box to work every day, at minimum. This bag allows me to condense everything in ONE bag. It's spacious, full of pockets for organization, and oh so stylish.
Waterbottle
Everyone I know loves their S'well bottle. I like mine, too. It's great for traveling. It's not great for the gym or studio, in my opinion. I don't like having to unscrew the top every single time I want a swig of water. Instead, I carry my Contigo 32oz water bottle everywhere. It has a button to push to expel water, and it has a sliding lock to prevent spills so it's readily available when I need a quick swig between thigh sets or squat reps.
Post-Workout Favorites
When I leave the gym or studio, there are a few products I reach for each and every time.
Snacks
I try hard to eat something right after a workout. My favorite post-workout snacks on the go are Larabars and RXBARS. Both are made with simple, real ingredients, and if you're on Whole30 or paleo, you can find options to fit your diet. Plus, they're just really really good!
Protein Powder
I don't take supplements, but I do rely on protein powder to help me get enough protein. I'm not a huge fan of whey protein, so I lean towards plant-based protein powders. I really love the taste of Orgain Plant Protein, particularly the Chocolate. I pick it up at Costco for around $30 and it lasts me a while, even using it five or so times a week.
Not Your Mother's Dry Shampoo
I have several travel sized products in my gym bag – I'll do a post on that soon! – but the one product I absolutely have to have? Not Your Mother's Dry Shampoo. It works absolute miracles on my hair. The days I get the most hair complements are usually the days in which my hair is full of dry shampoo. Go figure.
I'm sure I'll have a new round of favorite fitness products soon enough, but for now, these products are my must haves.
What are some of your must have fitness products? Any hair ties or headbands you especially love? I haven't found the perfect ones yet!